A drone is a tool for professionals that can be a safety risk if not used properly. Make sure you always respect the limitations of your system to ensure the safety of material and people.
WingtraPilot features a couple of safety parameters to ensure safe operation throughout the entire flight. The parameters allow you to influence the automatically-triggered RTH scenarios described in Return to home.
The safety parameters are accessible on the top right during mission planning via the drop-down menu below the flight plan information.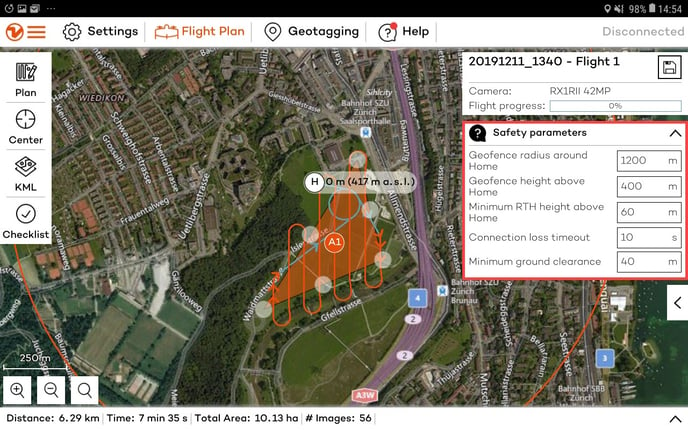 Before starting a flight, one can adjust the parameters. These parameters are not saved to the flight plan. They are thus required adaptations after each power cycle / flight, which is especially relevant if your project requires more than one flight. Keep in mind the following considerations:
Geofence radius around home
Defines the maximum allowable distance from home in the particular mission
Prevents a fly-away of the WingtraOne beyond this distance
When creating or opening a flight plan, the maximum default radius is set to 1200 m, which corresponds to the maximum visual line of sight
Geofence height above home
Defines the maximum allowable height above home in the particular mission
Prevents a fly-away of the WingtraOne beyond this height
Per default, the maximum height is set to 400 m before each take-off
Minimum RTH height above home
Defines the minimum height, at which WingtraOne returns to home
If current height is lower than the defined minimum RTH height, WingtraOne will climb to the set value in a loiter circle and only then will it fly directly home

Per default, minimum RTH height above home is set to 60 m before each take-off
Adapt minimum RTH height to the mission requirements—in particular in difficult terrain and when using ground elevation offsets
Connection loss timeout
Defines time span after which WingtraOne will execute an RTH if the telemetry connection is lost. If you fly with a remote control (RC), WingtraOne will return 60 seconds after both links are lost.
Note: since no telemetry connection is available, you will not receive feedback on the state of WingtraOne
Per default connection loss timeout is set to 60 seconds before each take-off
Adapt connection loss timeout to your mission requirements. I.e., in cases of flights beyond visual line of sight and obstacles in the direct line of sight, you may need to increase the timeout time to ensure that WingtraOne follows and completes the defined flight plan
Without telemetry connection you have no means of interacting with your WingtraOne; do not increase connection loss timeout unnecessarily, and make sure not to violate your local law
Minimum ground clearance
Defines the minimum distance between the flight height and the terrain height
Important: if the minimum ground clearance parameter is higher than the defined height above ground, the flight height will adjusted to match the ground clearance parameter
Use the minimum ground clearance parameter to account for trees, houses and obstacles
Set the parameter to have a margin to the highest obstacle in the flight area
Note: The minimum ground clearance parameter accounts for uncertainty in the elevation data, which is approximately +- 20 m