You can adapt the flight planning interface for your use by changing several parameters in the "Settings" tab within WingtraPilot.
General settings
Map provider (Bing, Google, Amap, Google Ditu)
Map type (street, satellite, terrain, hybrid)
Enable local coordinate system (for China)
Enable elevation data. Terrain following can be used and ground clearance checks are enabled only if this option is enabled (see Advanced flight planning). We strongly recommend enabling elevation data for the following reasons:
a) Elevation data is subject to uncertainty (for normal, not too steep, or changing terrain you can expect uncertainty below +-20m)
b) Elevation data models the terrain profile, which means it does not account for objects like buildings or trees
c) The data can be outdated (and hence incorrect) in cases where terrain is changing substantially (e.g. in mines)
d) Uncertainty in steep terrain is higher than normal
Enable RC (Caution: Use only if you know how to fly with the RC.): By default WingtraOne is flying with only the tablet as a ground station. This option allows enabling operation using the remote control.
Units (metric, imperial)
Language (English, Chinese, Japanese, Spanish)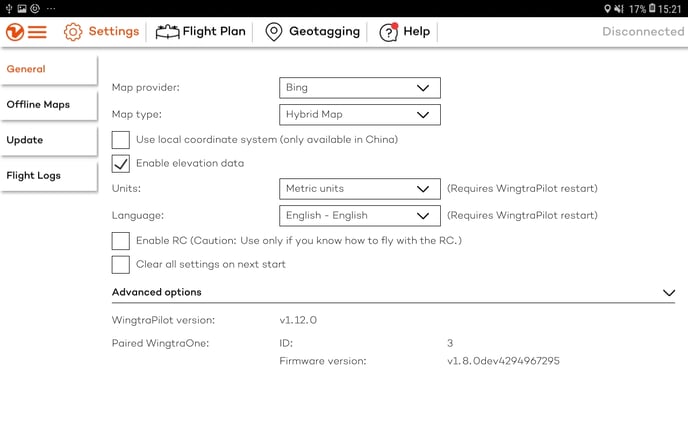 Advanced options
By clicking on "Advanced options," the list of settings extends, and you can modify the following settings:
Enable custom side overlap settings, which allows you to plan flights with negative overlaps. This is useful for applications where an image sample of a large area is required but not orthomosaic generation
Geotag file format defines the CSV file that is generated during geotagging. How the CSV file will be structured depends on your choice and can be seen below the drop-down list.
Output Trimble project file JXL - non PPK only: enables the direct import of WingtraOne images into Trimble Business Center (TBC) by exporting the JXL file format. Note that this is possible for projects flown with software v1.11 or higher version.
User mode (basic, Wingtra). Please always use the basic mode; all functionality is given in the basic mode, and Wingtra mode is only for support purposes.
Never switch to Wingtra mode unless you are told by the Wingtra support.
Furthermore, you can check the current WingtraPilot version and details to your last connected WingtraOne.