Learn about the different flight modes and options to interact with a WingtraOne flight.
WingtraOne generally flies in either hover or cruise. Hover implies a vertical position of the drone for take-off and landing. In cruise, the drone is positioned horizontally for forward-flight, in which WingtraOne flies like a fixed-wing aircraft.
To execute an entire flight plan and incorporate transitions between hover and cruise, WingtraOne flies according to the following three main flight modes:
Auto mode
This is the normal mode where WingtraOne flies the planned flight autonomously from take-off to landing. After you command the take-off on the tablet, WingtraOne performs a motor check, where both motors spin up separately. After four seconds, WingtraOne rises vertically to a pre-set transition altitude in hover mode. While ascending, WingtraOne orients itself to ensure the front side faces the transition direction.
After transition, WingtraOne flies to the loiter circle, where it rises to the mission altitude. After completing the planned flight area(s), WingtraOne flies back to the loiter circle to fly down to transition altitude. After a back transition, WingtraOne first hovers horizontally to the home position and then starts descending. WingtraOne descends horizontally at a rate of 1 m/s. When it is 3.5 m (11.5 ft) above ground, WingtraOne slows down even more and lands automatically by shutting off the motors 0.25 m (.8 ft) above ground.
Return-to-home (RTH)
If RTH is engaged, WingtraOne flies back to the home point and lands autonomously. For more details, see the Return-to-home chapter.
Assisted mode
You can fly WingtraOne manually in assisted mode. For a detailed description of how to fly with the remote control (RC), see the assisted mode chapter.
Possible interactions
The following table summarizes your options to interact with the drone during flight, in order to switch between the flight modes and orientations. Make sure to observe WingtraOne, and be prepared to interact, especially during the landing.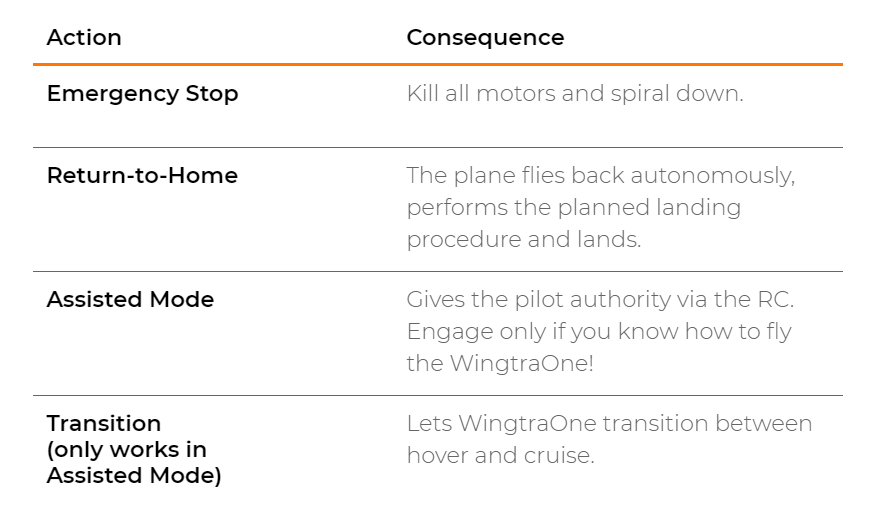 You can take all described actions from the RC by pressing the respective buttons. To trigger emergency stop you have to click the red button three times within two seconds. You can engage return-to-home (RTH) and trigger emergency stop from the tablet by clicking on the respective buttons and moving the slider from the left to the right as shown in the videos below. Emergency stop can be useful when landing to enforce motor shut off. For example, you may choose it when landing on shiny surfaces that are hard to detect by the distance sensor.
THERE IS NO WAY TO REGAIN CONTROL ON EMERGENCY STOP!
Emergency button triggered from the tablet
RTH engaged from the tablet