This article explains how to check and adjust camera settings for RX1RII payload.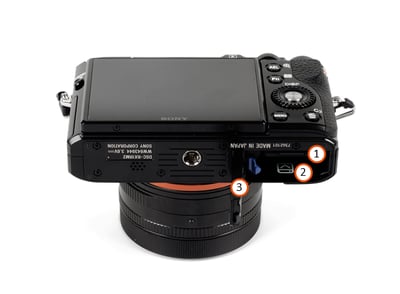 SD card slot (use at least a 128 GB SD card size)
Battery compartment
Closure lid—has to stay open when inserted in WingtraOne
Mode dial
Power ON/OFF switch—default "ON"
Focus ring
Aperture selection ring
Focus mode dial


During the flight, the dummy battery powered by WingtraOne needs to be inserted into the battery compartment. To change the camera settings without powering on WingtraOne, the external camera battery can be used. The Charging Accessories chapter tells you how to charge this battery. Here you learn how to remove the RX1 camera from the mount.
The RX1 camera is configured with the following settings.

The default settings give good results in a large range of light conditions. The maximum ISO the camera adjusts to is 6400. In case of dark conditions, you can decrease the shutter speed down to 1/1500s or open the aperture further. Here is an image depicting the relationship of the exposure triangle: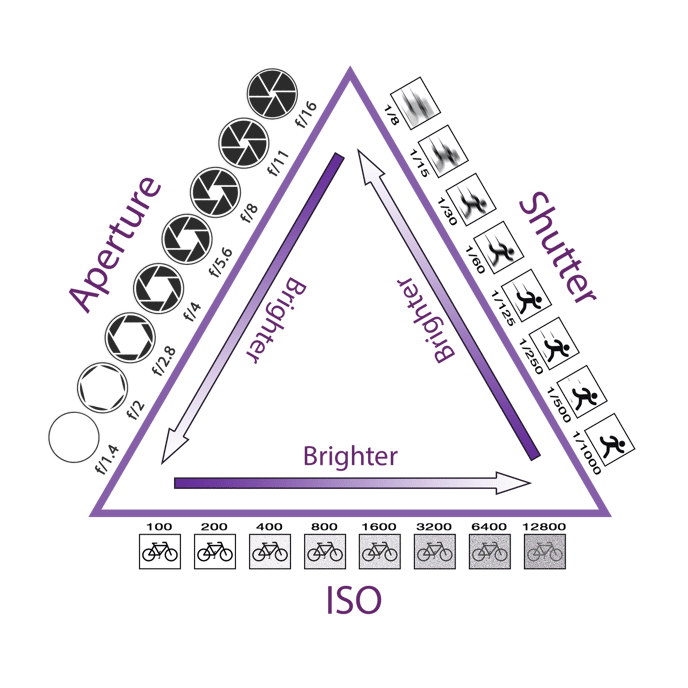 Image Quality Settings
It is possible to increase the image quality settings to extra fine, and RAW + fine. These settings can improve the image quality even further. However, the file size of individual images increases significantly from ~18MB with fine, to ~38MB with extra fine, and ~44MB +18MB with RAW + fine. The continuous write speed in the camera during image acquisition is limited. To trigger reliably every image, do not use the image quality setting extra-fine below 1.4cm/px GSD (@75% frontal overlap), or RAW + fine below 2.1 cm/px (@75% frontal overlap). Please note: Image file size directly affects the post-processing speed of geotagging, file copying, and map generation. The camera is preconfigured when you receive the unit to the following: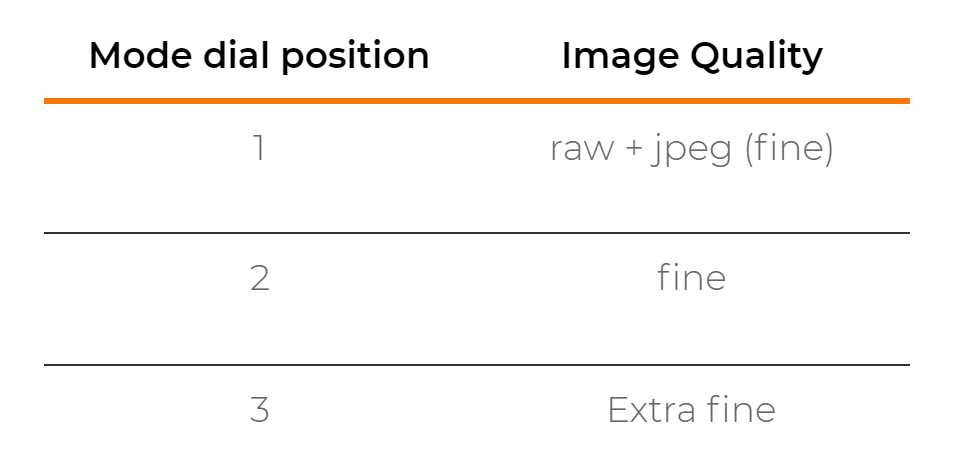 Change Camera Settings
The aperture, exposure, and focus can be changed using the mechanical dials on the camera. These settings need to be mechanically adjusted and can not be saved to a mode.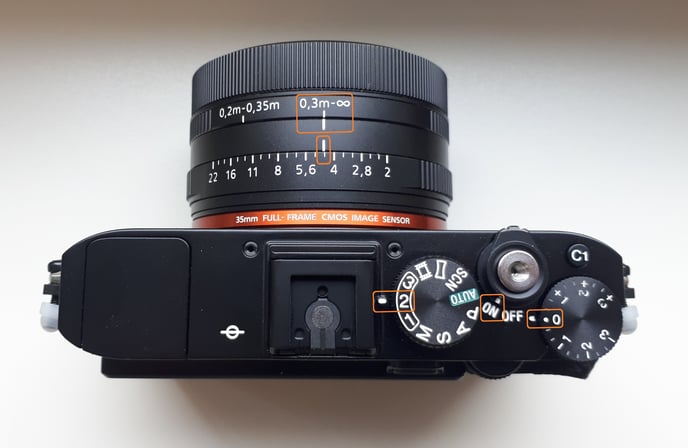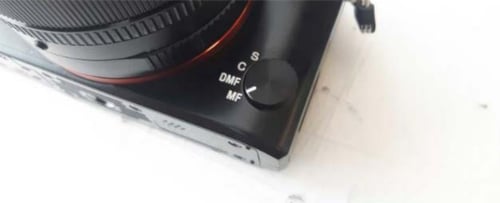 The other settings can be changed electronically. To use different settings in flight, you have to store them as memory recall function and adjust the mode dial to the respective number. Set the mode dial to "M" and adjust the desired settings on the camera, like file size, compression, metering mode, WB, shutter priority, shutter speed, ISO, or image quality. Go the the image settings (Menu > camera symbol > tab 8) and select Memory. Turn the menu dial to access the desired register 1, 2, or 3 and press the round button in the middle of the menu dial. To save the settings permanently, turn the camera off manually using the on/off switch of the camera. Wait 5 seconds and turn it back on.
Once you overwrite the preconfigured WingtraOne settings, they cannot be automatically restored.
For more information about the camera, see the official Sony Documentation. If you run into trouble, check the WingtraOne RX1 Troubleshooting Section before submitting a support request.