Checking the health of your battery is now possible in WingtraPilot. This article explains how it can be done
Use in Pairs
WingtraOne Li-Ion batteries should be used in pairs. This results in the batteries aging at the same rate and minimizes the chance of the drone triggering RTH due to battery charge differences. Check the colored half-circle on top of each battery to identify pairs. For more information related to the charging of the batteries, please read the article Charging WingtraOne flight batteries:
Interfacing Batteries
In order for the WingtraOne to get information from the batteries, the battery data cable needs to be connected from the batteries to the Drone:
If your drone has two USB plugs, connect both batteries to the drone and see the status of both batteries.
If your drone has only one USB plug, connect only one battery at a time and see the status of the battery connected by USB. If you only have the data cable installed on one battery, it is recommended to install a spare data cable on the second battery as well. This way, the health of both batteries will be checked from time to time.
Let us know if you don't have enough data cables or your batteries are not equipped with battery retainers (see image below). We are happy to provide you retainers and data cables to increase the durability of your batteries.

Battery Health - Status
The status of the battery's health is influenced by many factors such as the number of cycles, how it was stored, and the wear of the battery. When you click on the battery icon, three different status can be shown: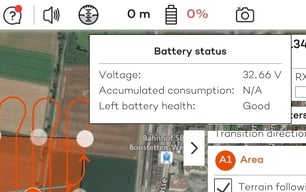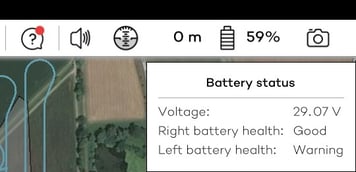 Good: The battery is in good health condition and should be used and stored as described in this article
Warning: The battery is reaching the end of life and it is needed to be changed as soon as possible. Please order a new pair of batteries. You can still use the current pair until it reaches the critical state of health
Critical: The health of the battery is critical and the WingtraOne will not take off. The battery will not be able to perform correctly and should be disposed or recycled