Checking the health of your battery is now possible in WingtraPilot. This article explains how it can be done
WingtraOne Li-Ion Batteries
WingtraOne Li-Ion batteries should be used in pairs. The wearing of the battery should be the same as well as the number of cycles in order to fly without having problems. A voltage difference measured in the drone will lead to an RTH so please make sure to use them in pairs (check the colored half-circle on top of each battery to use them in pairs). For more information related to the charging of the batteries, please read the article Charging WingtraOne flight batteries:
Checking Batteries
In order for the WingtraOne to get information from the batteries, the battery data cable needs to be connected from the batteries to the Drone:
If your drone has two USB plugs, you should connect both batteries to the drone and see the status of each battery.
If your drone has only one USB plug, you can only connect one battery at a time and see the status of the connected-by-usb battery. In order to see the status of the other battery, unplug both batteries, connect the battery data cable to the battery you want to check the status, and repower the WingtraOne.
It is recommended to exchange the battery data cable within the pair of batteries every 5 flights

Battery Health - Status
The status of the battery's health is a combination of many factors such as the number of cycles, how it was stored, and the wear of the battery. When you click on the battery icon, three different status can be shown: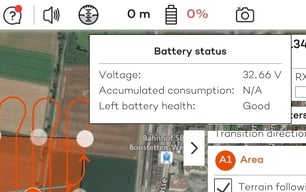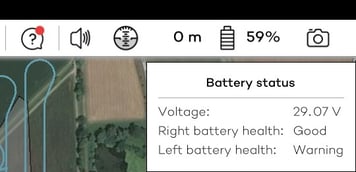 Good: The battery is in good health condition and should be used and stored as described in this article
Warning: The battery is reaching the end of life and it is needed to be changed as soon as possible. Please order a new pair of batteries. You can still use the current pair until it reaches the critical state of health
Critical: The health of the battery is critical and the WingtraOne will not take off. The battery will not be able to perform correctly and should be disposed or recycled
Wingtra does not cover batteries under warranty so please make sure they work well when you receive the WingtraOne. For more information please visit: https://wingtra.com/warranty/