Regulations around using drones differ from country to country.
The limitations vary from restricted areas to a pilot license requirement. Please check the law that applies in the country you are flying.
Regulations in Switzerland
In Switzerland the Federal Office of Civil Aviation (FOCA) is in charge of regulations around drones, which can be found here.
The most relevant regulations are:
Do not fly over people unless you have the right permission
Do not fly beyond visual line of sight
Do not fly higher than 120 m above ground
Do not fly in restricted areas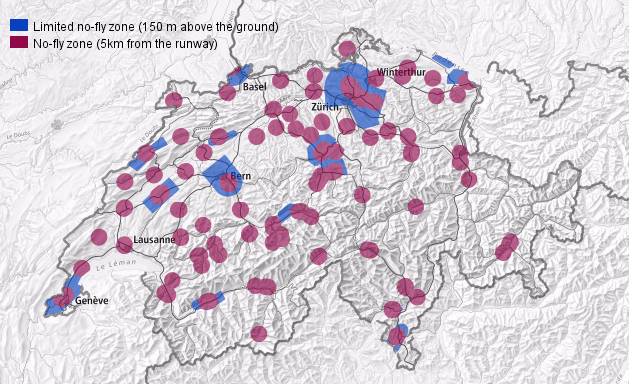 More detailed information about operation in Switzerland below.
For operation in the open category:
Mandatory registration of pilots and operators.
Training with examination as specified in the sub-category (A1, A2, A3).
Minimum age for drone pilots of 12.
Minimum distance from uninvolved persons as specified in the sub-category.
Maximum flight altitude of 120m above ground level.
Drones must bear a CE marking and a class identification label. The transitional provisions apply to drones without a class identification label.
For operation in the specific category:
New permit procedures are available (EU-STS, PDRA, LUC)
The FOCA may outsource some official duties. The entities involved in the authorisation procedure will be properly qualified and training will be carried out by recognised entities.
The transitional provisions apply to certain areas:
As of January 1, 2023, the FOCA will only issue operating licenses in accordance with EU law. A transition period of 8 months is planned in order to:
Adapt operating licenses already issued to the new legal basis.
To give operators newly falling into the specific category time to obtain a licence under EU law (STS, PDRA, SORA).
To allow operators in point 2 to still operate under the rules of the previous OSCA during this time. In doing so, operators can deviate from the rules of the open category, if this is absolutely necessary for the operation.
By the end of the transition period on September 1 2023, all operators within the specific category must be in possession of an authorization (STS, PDRA, SORA) based on EU law.