In some cases you will need to provide the Wingtra customer success team with log files in order to troubleshoot your WingtraOne. Learn how to retrieve such files.
Prepare WingtraOne for the log transfer
To prepare your WingtraOne for accessing flight logs, insert the SD card into the camera, and then power up the drone and tablet.
Transfer the logs
In WingtraPilot, click on "Settings," and then select the tab "Flight Logs." Wait until the camera connection is established. Once the camera icon on the top right is black, press the button to start transferring log files and wait for the confirmation message. It is important to note that this process may take up to three to four minutes.
The transferred flight logs are stored on the camera SD card in the folder "WingtraFlightLogs." This folder can be accessed by inserting the SD card into the tablet, or via your personal computer.
Send flight logs to Wingtra support
On the tablet or computer, log into support.wingtra.com and submit a support request. Describe your issue in as much detail as possible. Attach the zipped folder located under /WingtraFlightLogs on the SD card, and submit the request.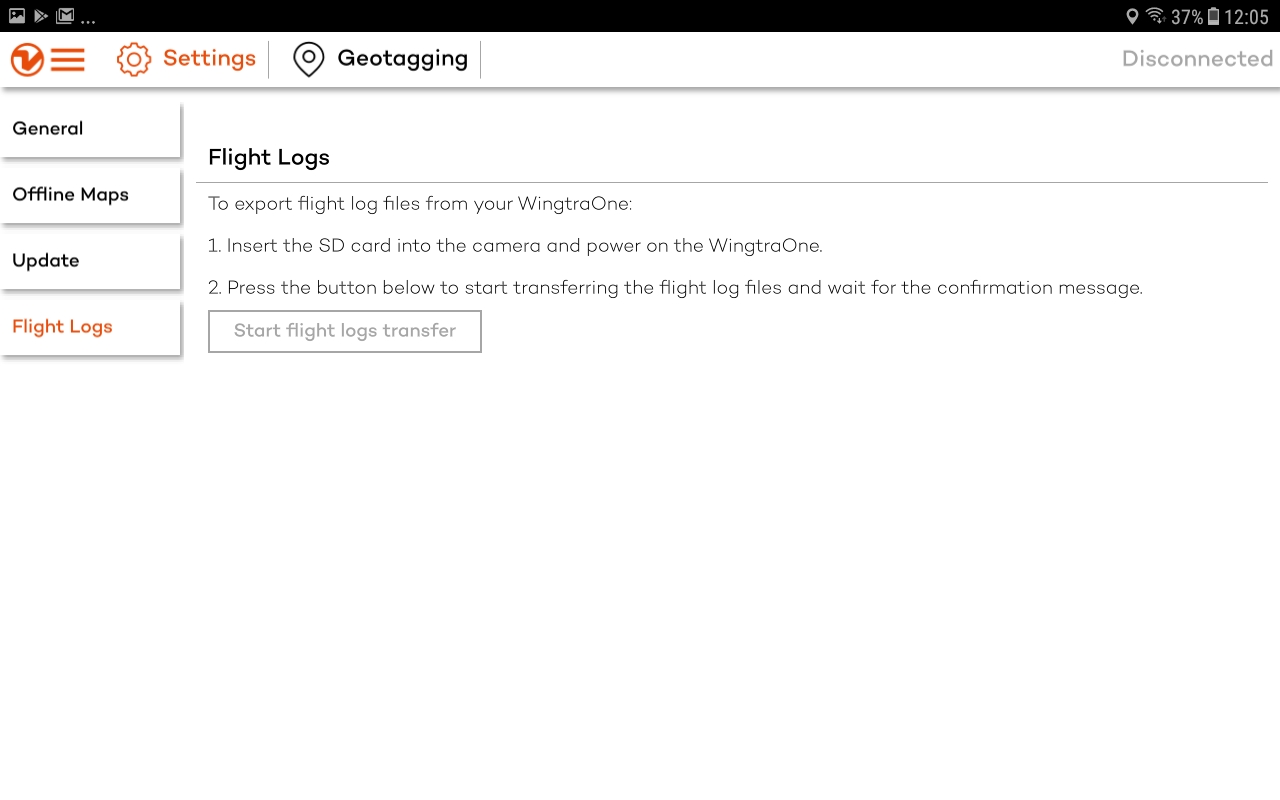 Access flight logs—troubleshooting
In case the flight logs were not transferred after waiting more than five minutes, check the connection to the camera SD card. The logs can only be transferred once the camera connection is established. Check if the camera icon on the top right is black. If it is gray, the camera is not connected. To ensure it is connected go to the flight plan tab, open the preflight checklist and run the camera check. In case your camera can not be connected, check out the troubleshooting chapter of your respective camera (QX1, RX1).
If that does not help, check the camera SD card—particularly to check that it is not write protected. If you continue to keep facing difficulties writing flight logs, reformat the SD card. Follow the WingtraOne support guidance for reformatting your SD card, which can be found in the WingtraOne maintenance article.
Access flight log—fallback method
In some cases, downloading log files might fail via tablet. The following PDF article shows you how to access the autopilot and retrieve log files directly from its SD card.