This article will help you troubleshoot if your flight data was not saved correctly on the SD card.
After the flight the images and GNSS data are saved in the WingtraPilotProjects folder on the SD card. You can find the detailed list of expected data in the geotagging articles (Non-PPK geotagging, PPK geotagging).
If you see one of the following warnings or if you cannot find the flight data, follow the instructions below to retrieve the data, depending on the data you are missing.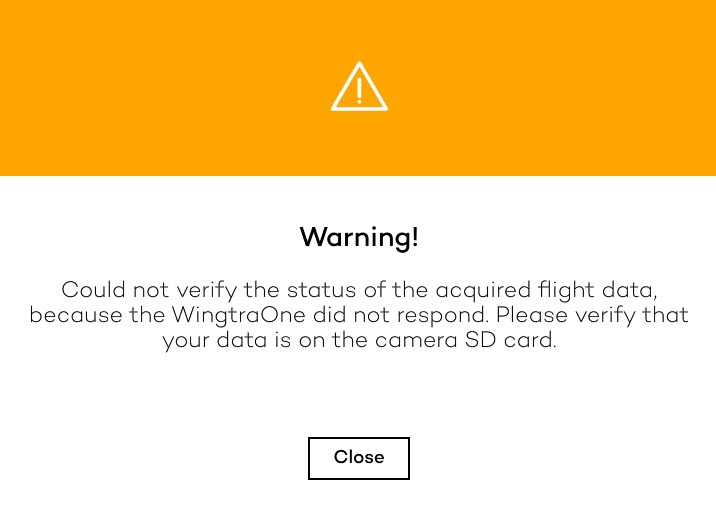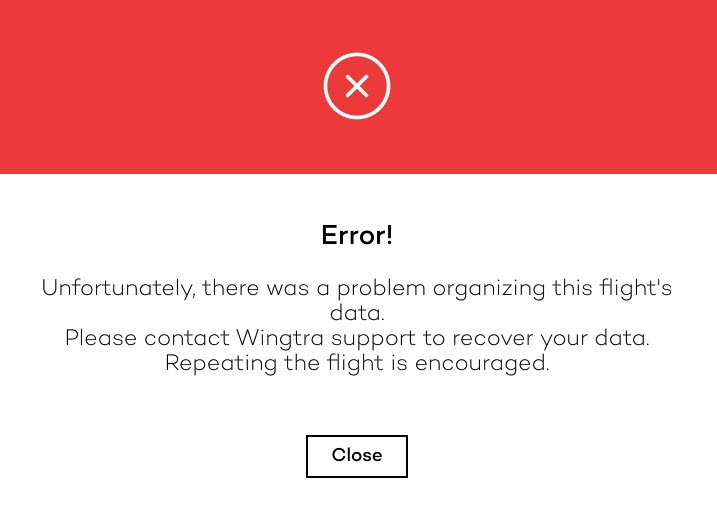 For the images:
Insert the SD card into your computer
Open the DCIM folder in the SD card folder; you can find the missing images in this folder
Copy all the images except the one with the Wingtra icon to the IMAGES folder in WigtraPilotProject folder
For the Non-PPK geotags (.json file):
Repower WingtraOne
Go to the Geotagging menu. You will be asked if you want to download the geotags (if you are not asked, see the next step); click YES and wait until the download completes
If you are not asked, move the drone outdoors so that it has GPS reception and remove the propellers. Create a small flight plan in the area, make sure that the SD card is inserted in the camera, go through the checklist and start the flight. You will be asked to download the non-downloaded geotags. Click YES and wait until the download completes. Shut off the motors by pressing the emergency button, three times in two seconds
Make sure that the .json file is stored under My Files > Internal storage > WingtraPilot > Projects > project_name > DATA
Rename the .json file to match the project name
Geotag the images from the Geotagging menu window in WingtraPilot following the steps of the Non PPK Geotagging article
For the PPK geotags (.sbf file):
Insert the SD card into the RX1R II camera
Make sure that the payload cable is inserted into the USB-C port, as you can see in the WingtraOne 40MP RX1R2 article
Power on WingtraOne
Open WingtraPilot and connect the telemetry
Wait until connection to WingtraOne is established
Check whether the camera icon on the top right of WingtraPilot turns black If it stays grey, repeat all the steps from the top until it turns black
After the camera icon turns black, go to the Flight Logs tab in the Settings window and click on the Start flight logs transfer button
Wait until the flight logs are successfully downloaded
Remove the SD card from the RX1R II camera and insert it into your computer
Open the WingtraFlightLogs folder in the SD card folder
Unzip the recovered_data.tar file—you will need software like 7-zip or WinZip to unpack it. Note that you might need to unzip it twice
You can find the missing .sbf files in this unzipped folder
Copy the file to the DATA folder of the project in WingtraPilotProjects
Make sure that the name of the .sbf file corresponds to the project name
Geotag the images in WingtraHub following the steps of the PPK Geotagging article