This article guides you through the steps involved with unboxing and initial pairing to the ground control station
Prerequisites
You need to have received your drone to perform this step.
Turn off the Internet on the ground control station tablet to ensure the required air gap for the WingtraOne Gen II.
WingtraOne and WingtraPilot pairing
During the first startup of the WingtraPilot application (icon on the home screen) you are guided through a number of steps.
1. Enter the operator email address and select language and units system.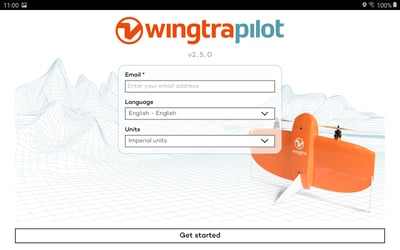 2. In order to use the WingtraOne product you will have to accept the end user license agreement.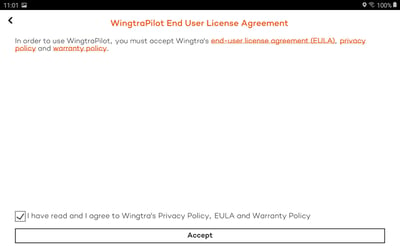 3. Power up your WingtraOne and connect the telemetry module to the tablet to initiate the pairing process.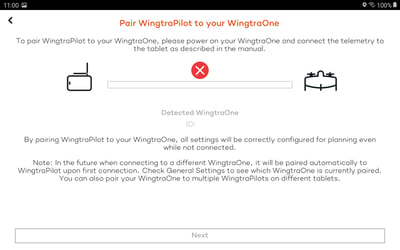 4. Go to wingtra.com/register to register your drone and to activate your licenses (PPK, BLU, Total Maintenance Plan, etc.).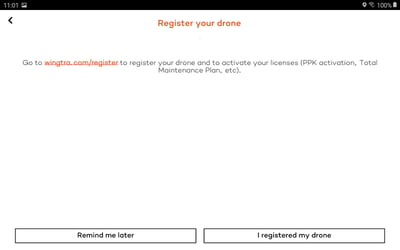 5. Non-Blue sUAS systems fetch their licenses automatically over the Internet. To maintain the air gap skip this step (Skip button) and follow the method explained later in this tutorial.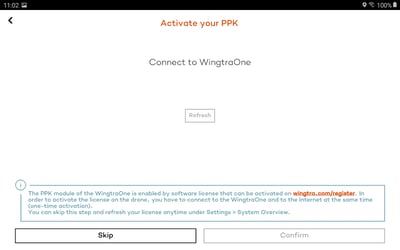 Up next
Read about how to get your WingtraOne up to date with the latest blue approved software in this article.
Or head back to the main Blue sUAS knowledge base page.